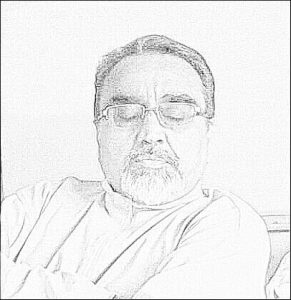 I hail from a typically large Kerala Brahmin family, Tamil speaking with roots everywhere in the south. My father having worked in a bank, I had a wonderful life in different cities, due to frequent transfers.
Of all the places, Bombay and Trivandrum (I refuse to use the modern names) evoke the fondest memories.
Bombay, because of its bustling lifestyle and go-get-it-done attitude and its hodge-podge different cultural mixes, created an unusual atmosphere for me to grow and have a sense of confidence and can-do-anything attitude, which believe me, is there in very few cities .Without decrying any city, your early life, influences you to a great degree and that has stayed with me even now.
Interestingly, the cultural mix left me with multiple options as to what I want to do. Being a Brahmin, engineering was almost the first option. A chance transfer of my father to Trivandrum opened up a completely different life in terms of culture as well as other opportunities. Sports interested me greatly and I was able to represent the state school's cricket team, when 14.This love for cricket has stayed with me all my life. I also represented the state in football and table-tennis, besides extra-curricular activities like debating and quiz.
Kerala also introduced me to the delightful scenery and natural life, the love of which is still ingrained in me. It also allowed me entry to the delightful world of Kerala aunties, who had a bold bohemian attitude, albeit discretely.  Having scored well in school, I was looking at options in colleges, where I could combine academics and sports, besides other pursuits.
College in Coimbatore doing my Electronic Engineering was a mind-blowing experience, in terms of the large  rural population and the adjustments to be made, but was without doubt the most fun-period of my life. What with cricket, quiz, debating, participating in the IIT cultural fests, it was a rollicking time, when you enjoyed, made mistakes and hopefully learnt from them.
The vagaries of life ultimately brought me to Bangalore and this single incident is indelibly printed in my mind. We came from Madurai, where the average temperature is easily 40 degrees. When we inspected the first house in Sadashivanagar, the landlord showed us a house without any fans installed. When we asked him about it, he looked at us as if we were from another planet and asked "Fans in Bangalore "?Though there was a kernel of truth in his thinking, sadly El-Nino or its cousins have increased Bangalore's average temperature substantially. But without doubt, it is still the best city to live in India.
Living in Bangalore was a blast, what with the wonderful climate, the beautiful girls and most importantly, the wonderful atmosphere. When I first came here I remember a railway crossing in front of Windsor Manor (now) and a few similar iconic structures, which are lost to us now, regrettabilitily, but part of ongoing development.
I was introduced to books by my grandfather who gifted me " The Count of Monte Christo " by Alexander Dumas in two volumes ,when I was 6 years old and told me solemnly –You are really grown up when you enjoy reading this book. I was so into pleasing him as well as being grown- up, that I put a lot of effort in trying to understand serious writing and enjoying it. I now think that, that book is the best work of fiction I have ever come across in my life (Aside from the personal bias). I still have those two volumes in front of my desk today and provide me the inspiration to aspire towards being a writer.
Life in Bangalore in the 70's was a lovely, pleasant and a wonderful experience. I started collecting books (numbering more than 2000) seriously, everything from Westerns to Biographies, History of conquerors, Mythology, Joke books including Playboy, Classics, Cookbooks, Travel related and fiction which is my favourite. I now have most of the books of Wilbur Smith, Clive Cussler, Vince Flynn, Daniel Silva, MathewReilly, Dan Brown, Jeffery Archer, John Grisham, Andy McDermott and Pittacus Lore besides older authors like Harold Robbins, Nelson De Mille, Erik Von lustbader, James Cavell, Scott Turrow, Trevanian, along with numerous authors who have written few bestsellers. My grandfathers' brother bequeathing me his wonderful collections of books from the home-library club from the 1930's, was the icing on the cake.
I worked in an engineering company learning the ropes for 5 years, before launching my own company manufacturing specialty engineering components, also to be supplied to defense. I ran the company successfully for 24 years before a series of auto-accidents and some personal issues put paid to my dreams. I was at my wit's end , when I decided to follow my heart and  do "what I enjoy doing, that is writing ".I have been freelancing since  then and it has been a tumultuous journey full of highs and heart-breaks , but enjoyable rewarding none-the- less.
The single life in Bangalore is a cornucopia of joyful pursuits what with it bars, restaurants, social life, wonderful climate ,married women, people who pursue an active outdoor life and in general –people who work hard and play hard.
My first love would always be books (Aside from my two lovely daughters residing in USA) besides cooking, fishing, enjoying Coorg at every opportunity, but have refrained from making a bucket list of wishes  , as life is too short, but still am positive to pursue my passions. I avoid people who procrastinate, are negative in thinking and never have anything positive to say, but will criticize anything and everybody.
The so called 'Silicon Valley "of India is in full flow now and it is wonderful to see how many projects are turning successful along with its quota of failures. But as the saying goes "Life does not have to be perfect to be wonderful ", I am making the best out of life.
Sunshade